John Dalmas
Where the He-Men Work
Speaking of imprinting. Everyone gets some, benign or malignant: When I was four years old, my dad was the chief engineer of the SS Robert Fulton. The rules of the Pittsburg Steamship Co. permitted mama and me to accompany my dad on an occasional trip, say from Duluth, Minnesota to South Chicago. One day dad took me down into the engine room, not an unusual thing for us, but this time he didn't stop there. Perhaps he'd decided it was time to expand my world again. At any rate we went down an additional ladderway into the crank room, the great engine booming, crank rods bobbing frantically, and with only the bilges between us and the ship's bottom.
From there he took me through a door into a different world...dark, narrow, tunnel-like, smelling of dust and coal smoke; and fifteen or twenty feet long. The catwalk he trod (he'd hoisted me onto his shoulder) was crowded between the two boilers, whose bulging sides almost met overhead. Ahead of us, at the "tunnel's" end, was roseate light. With the crank room door closed behind us, it was relatively quiet, the engine sound much reduced, interspersed with mysterious crunching and ringing.
My dad spoke casually: "This is where the he-men work," he said.
I have no doubt we went those additional fifteen or twenty feet to the Stoke Hold, and saw what was done there, but I don't specifically recall it. Nor do I recall the fierce heat. It was the words and -- call it "the stage" -- that imprinted me. And in 1947 I would become intimately familiar with that particular venue of "where the he-men work."
(The crunching, incidentally, was the shovel scooping coal, and the ringing, the heel of the shovel striking the dead plate of the furnace door. All a mystery to me then. Lots of things are a mystery to a little kid.)
The world and its people are an interesting combination.
The Next 75 years
Less than two years later, in 1933, my dad died. In the bottom of the Great Depression. So I grew up mostly in foster homes but twice in boarding houses, mainly with an aunt and uncle in the small rural village of Linden, Michigan, population then 700 and something. And briefly on a farm near Taylors Falls, Minnesota, where I rode to school on a bus of 1920's vintage. To keep the children warm in the Minnesota winter, it had a small, pot-bellied coal-burning stove in back. Wouldn't that go over well in today's litigious society!
It was a very different world.
As a teenager in rural Michigan, I was a farm and creamery worker, doing nice heavy labor ("he-man's work" of another sort), until at age eighteen (1944) I was drafted, went to infantry school, and volunteered for the airborne. We'd all heard the old military mantra "never volunteer." Now our buddies laid it on us: "You're crazy, man! They're going to drop you out over Japan, and the Japs will be shooting at you all the way down! You'll be dead before you hit the ground!" So we went to Georgia for parachute and advance training -- and our buddies went to Okinawa. Some came back in army coffins, while I never experienced hostile fire. Because...on our way to the Philippines, the A-bombs were dropped. By the time we got there, our assigned division, the 11th Airborne, had left the Philippines and landed peacefully in Japan. (Peacefully, but not without concern: armed Japanese military on the home islands outnumbered the paratroopers a hundredfold.)
My service in the Philippines was in several outfits. First I worked on construction, building a base hospital (for casualties from the battle of Japan, which was already cancelled, thanks to the Manhattan Project. When the hospital was built, the army turned it over to the Filipino government. Next I worked on the docks as an army stevedore unloading ships. It seemed I was a magnet for strenuous labor! Next, however, I was assigned as a medic to the 341st Infantry Regiment, with on-the-job training; our battalion mission was to demobilize Filipino guerrillas in Batangas Province. And finally, guided by pigmy aborigines, I was the medic in a patrol searching for two planes missing in the mountain jungles on northern Mindoro, missioned to bring out the bodies.
Why so many transfers and assignments? Because the war was over, and guys were being sent home in large numbers. Including guys in jobs that had to be filled. I took full advantage of the opportunities. As I later told my mom, I was collecting characters and scenes for stories. But it went beyond that; I was collecting experiences in general, growing, evolving as a human being.
In October 1946, my turn came, and I went home to Linden, to family and friends. But I didn't stay long. I had more evolving to do. (Still do.) So I bummed around, working as a merchant seaman on the Great Lakes (yes, in the stoke hold), and as a logger. Worked on construction. Drank in many bars, from Hungry Horse, Montana, to Little Fork and Duluth, Minnesota; to Soo Ontario, to Ashtabula Ohio, to Buffalo New York. In an era of hand saws and axes, of coal shovels and slice bars.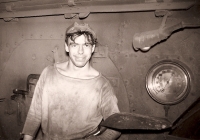 I was already a dedicated reader of science fiction and the men's adventure magazines (especially Astounding (now Analog) Science Fiction, and the adventure magazine Blue Book. Oh my! Does anyone reading this remember Blue Book?). Loading up on story telling, and loosening my mental strictures on what the world is like, or could become.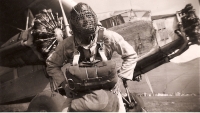 Working in logging camps colored the rest of my life. It gave me a strong taste for the woods, and also brought the realization that sooner or later I'd want a family life. And as things stood, I was likelier to become an alcoholic than a husband. So in 1950 I started college (Michigan State) on the World War Two GI Bill, majoring in forestry, which would allow a settled life while working in the forest. During summer vacations I returned to logging or the boiler room. Or smokejumped. (What's smokejumping? You parachute to the vicinity of small forest fires, back in the wilderness, hopefully put out the fire while it's small, then hike for miles through beautiful mountain scenery to a truck trail, to be picked up).
Meanwhile I found time to take three terms of creative writing, under two professors, Randall and Bradshaw. Who were unusual in creative writing faculties: each had actually made his living writing fiction! That was in the hey-day of published fiction, before TV took over, capturing much of the market.
Meanwhile there were still things to do before becoming a professional writer. A course in silviculture (applied forest ecology) had added perspective to my interest in forests. Later, as a husband and dad with two forestry degrees, I was employed by the U.S. Forest Service, preparing and administering timber sales. After two years of that (on snowshoes from late November to late April), I decided to return to college and get a Ph.D.
"College?" I was asked. "What're you gonna take this time?"
"Ecology."
"Huh! Never heard of it."
Half a dozen years later, nearly everyone had. A little-publicized science had given its name to a crusade. And if the crusade was seriously flawed (crusades generally are), it was also much needed.
That Ph.D. program led to a seventeen-year research career, almost all of it in the mountains and high plateaus of Colorado, Arizona, and New Mexico. (It began, however, with a 6-month fellowship from the Quetico-Superior Wilderness Research Foundation.) I fell further in love with the high country, "the wilder, the better," and in my spare time, back-packed and day-hiked, learning constantly.
---
Meanwhile, one day in August 1968, I picked up what I soon decided was a really poor novel, Brak the Barbarian, and told myself "I can write better than that," then wondered if I actually could. The time was upon me! I began to write *The Yngling.* The following March, John W. Campbell bought it, and serialized it that fall in Analog SF, where the opening installment received the highest reader rating for a string of 20 issues. It would soon be published in paperback by Pyramid Books.
Some years later, with my son and daughter out of school, and with only a single novel and two novelets published, I went to Los Angeles to explore the possibility of writing for films. I soon sold a film option (nothing came of it)-- worth about three months rent. Meanwhile I needed eating money, but I didn't want a regular job which would make it difficult to write and hustle screenplays. So I became "casual labor," which allowed me to work as necessary. I'd check in with companies that hired by the day, working mainly as a mover for Moishe's Transfer, but also on gardening/landscaping jobs, and occasionally at night on crews that did janitorial work "while the city slept." (Even Angelenos sleep.) For a while I worked regular four-hour shifts as a night typesetter, and for several months was a full-time secretary in a small film-production company. Finally returning to casual work as a free-lance editor, taking moving jobs when editing jobs were scarce. I even joined a cult, which provided some interesting experiences in human behavior. I was still evolving; am still evolving. Meanwhile I'd begun writing and selling novels and short fiction again.
In 1985, along with my wife Gail, our daughter and a grandson, I moved to Spokane, Washington, where our son lived with his small family. There, Gail and I struck roots that held even when son Jack made a series of career moves, and Judy went back to California.
Meanwhile we were aging...and still evolving.
In 2005 we moved to Ohio. As of February 2006, I've had 30 books of fiction published (27 of them novels), and have several projects in various stages of progress. I keep giving birth to books, but more slowly now.
I attend science fiction conventions when I can, more than a hundred at last count. If you're at one of those, introduce yourself.